Buy the book. (Chapter 1 available at that link as a free preview)
Print (312 pages): $17.95; electronic (PDF) $9.99. Additional e-versions details to come.
ISBN 978-1-60910-764-2
Nook | Kindle | Indiebound | and iBookstore too.
---
Download the index to the book (PDF)
Interview on GreenAnswers.com
---
The Emperor has no clothes. The "great nation" described by Life Magazine in 1955 has become increasingly dependent on the rest of the world for just about everything: oil, famously; imported goods from China, definitely. But more importantly, the unequal global distribution of natural resources underpins interdependency for all nations, perhaps most critically in the United States, the world's largest consumer.

What does an emery board's rough surface tell us about Africa's million-years-long collision with Europe? Should an angler worry about the source of the platinum he or she relies on in casting a nylon line? What ancient life form gives us filters for beer?

In What Things Are Made Of, I recount the mineralogy of everyday man-made objects, delving into the geological story behind economic mineral deposits. Gold in jewelry, copper in plumbing pipes, talc in lipstick, europium in TV screens, mercury in Dr. Rush's Thunderclappers - each has a complex tale to tell. Rocks are books, and minerals punctuate the pages with riches to lure miners and investors to the far corners of the planet. The hidden geology behind everyday man-made objects explains America's dependency on global resources.

From the Medicis to Napoleon, from Montana to New Caledonia, the scope of this book is that of industrial civilization and the history of the earth itself. Blending history, technology, mineralogy, and geology, this account will leave you with an appreciation of the natural origins of hundreds of commonplace objects as well as the geopolitics that creates today's global interdependency for all mineral commodities.
---
The United States relies on imports for dozens of commodities in everyday use. Often enough, that reliance is 100%. The aim of this book is to provide awareness of the hidden geology and mineralogy behind common things, and to develop an appreciation for the global resource distribution that underpins our society. While concerns about oil import reliance are in the news every day, our needs for other minerals are comparable and are typically unknown even to technologically aware Americans, many of whom will constitute the primary market for the book. This book fills the need for such information.
CONTENTS
All the Ships of the World: Mineral products in home construction
A Sickening Slow Job: How to build and exploit a mineral deposit
A New Prometheus: Televisions, telephones, and other mysteries
The Salt of the Earth: Kitchen, dining, food, containers and soap
The Personal Alchemy Kit: Medicine, personal care, clothing, and the human body
Recreational Mineralogy: Jewelry, luxuries, art, shopping, sports, games
Fragments of the Starry Firmament: At work and on the farm
The Most Remarkable Things: On the road - oil and cars
So what?
References and further reading
As Napoleon's armies traveled further and further from Paris, the need for efficient food containers became evident - and led to the development of the tin can. Much of the world's tin lies high in the Bolivian Andes, a product of geologic interaction between South American and Pacific Ocean crust, just one of many mineralogical tales recounted in What Things Are Made Of. This blending of history, technology, and geology delves into the minerals that make up dozens of everyday products, from bricks to bowling balls.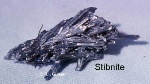 Rich mineral deposits, scattered with great irregularity across the planet, give rise to modern high-tech civilization and to a complex intertwining of resource-rich nations and major consumers - a global interdependency not as obvious as that for oil, but increasingly critical in many aspects of Americans' lives. Copper from Chile, tungsten from China, cobalt from Zambia, platinum from South Africa - all are vital. What Things Are Made Of shows us the components of stainless steel forks, car tires, emery boards and window panes, together with the geological mechanisms that formed the minerals used in each. Talc from Montana can be found in lipstick and insecticides, and nickel from Canada or New Caledonia gives the chrome-like coating on many auto hubcaps.
What Things Are Made Of follows a topical arrangement, with each chapter focusing on particular elements of society: Building construction, household appliances and electronic gadgets, food and the kitchen, personal items such as medicines and cosmetics, recreational and luxury items, minerals at work and on the farm, and uses on the road including automobiles, gasoline and oil-each fills one chapter. Chapter 2 is a non-technical explanation of geological forces and mechanisms that produce mineral deposits, and Chapter 9 contains lists of producers and those nations with the most reserves, how prices fluctuate, and descriptions of trends in global mineral interdependency.
The author, Richard I. Gibson, is a consulting geologist whose diverse 38-year career ranges from analysis of kidney stones to exploration for oil and gas in the Former Soviet Union. He is the former Education Director of the World Museum of Mining, and he served as a study leader for Smithsonian Journeys around the world. He lives in Butte, Montana, where he leads historic walking tours and trolley excursions for tourists. This web site is another element of his platform, drawing on average 600 to 2900 unique visitors per day, mostly to the oil and kidney stones sections. In 2008, as the price of oil climbed to a record, the site averaged 51,818 visitors per month, with a high in June 2008 of 92,000. Average for 2009 was 23,500 visitors per month.
---
Buy the book. Print (312 pages): $17.95; electronic (PDF) $9.99. Additional e-versions details to come.
---
The Google Earth gadget below contains pins with information about
some of the mines and other locations discussed in the book.
Zoom in and look for the yellow push-pins,
then click on a pin for the info box.
---

Wordle.net word cloud for Chapter 1.
---
Antimony - one of hundreds of topics in the book • Blog - where you can ask questions and comment
Local news coverage of Gibson: Frank Little article • News article • News article