---
Oil Exploration • Geoscience Information
Guided Geology & History Tours
Freelance Writing
"Thanks for visiting!"
—your host, Dick Gibson

Richard Gibson is a freelance writer who also provides non-technical geologic and historic guide services and educational presentations, including step-on guide service in Butte and geologically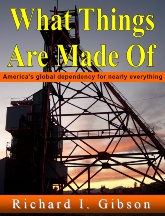 By Richard Gibson:
What Things Are Made Of
The story of America's dependency
on mineral commodities (including oil) in everyday life.
Buy the book
Print (312 pages): $17.95; electronic (PDF) $9.99. Additional e-versions details to come.


Visit the blog

interesting parts of the world. He was a Study Leader (2003-2006) for Smithsonian Journeys through the National Parks of the Northern Rockies (Tetons, Yellowstone, Glacier, Waterton Lakes), Alaska, Iceland, and Western National Parks - Yellowstone, Tetons, Bryce, Zion, Grand Canyon, Monument Valley, Mesa Verde. He was formerly an interpreter and Education Director at the World Museum of Mining in Butte, MT, where he gave talks and led trips and walks on geology and mining history for visitors. He is a tour guide in Butte providing services to Old Butte Historical Adventures, Mai Wah Chinese Museum, as a trolley tour driver, and independently for specialty and bus step-on tours. Gibson was once a mineralogical analyst of kidney stones and is the author of History of the Earth: A Perpetual Calendar, Lost Butte, Montana, and What Things Are Made Of .

In the professional geoscience arena, Gibson Consulting specializes in geologic interpretations of gravity and magnetic data for hydrocarbon exploration around the world. We provide consultation and interpretation services, and we also have numerous off-the-shelf products available for non-exclusive, proprietary purchase, including Russia and the FSU, Southeast Asia, and the USA. Snippets of some of these projects are in the slide show at left.

Richard I. Gibson
Gibson Consulting
301 North Crystal St.
Butte, Montana 59701
Phone/Fax: 406-723-9639

---
"Let me be a free man....free to think and talk and act for myself."
— Chief Joseph

---
"Consistency is the last refuge of the unimaginative." — Oscar Wilde
---
This and associated pages are copyright © 1996-2010 by Richard I. Gibson.
Disclaimer & acknowledgements & privacy statement
---