---
Discover "The Richest Hill On Earth"

Guided explorations of mining and cultural history and geology in and around
Butte, America
an educational tourism program from
Gibson Consulting

---
COST
Reservation Deadline
The Butte Discovery Tour requires a minimum of 8 and a maximum of 12 participants. The tour requires moderate but frequent walking, at elevations of up to 6000 feet. The program is designed for adults, but curious older children may be accommodated.
Cost of $1790 per person (double occupancy) or $1990 (single) includes 5 nights lodging at the Historic Finlen Hotel in Butte, 5 dinners, 5 breakfasts, 1 lunch, ground transportation, admissions, hotel and local guide and performer gratuities, included meal gratuities, publications, guide fee, and group photo. RATES SUBJECT TO CHANGE. Contact us for current rates.
A DISCOUNT of $100 per person is offered to participants who are members of the American Museum of Natural History, the Chicago Field Museum, the Smithsonian, the National Trust for Historic Preservation, and selected other museum partners. Contact us for more information.
Reservations must be made, with a deposit of $500 per person, at least two months before the departure date. Payment in full is due 30 days before the departure date.
Reservations & Cancellation Policy
Not included are driver gratuities, meals other than those noted, alcoholic beverages, personal items, travel insurance, and air fare or other transportation from your home to Butte, Montana.
The Richest Hill on Earth is rich in more than minerals — join us to discover the cultural legacy that dozens of ethnic groups left on Butte, Montana — named in 2006 the largest Historic District in the United States [note] and one of the National Trust for Historic Preservation's Dozen Distinctive Destinations.

Learn about the fascinating geology that made the mining possible, as well as the story of the labor strife that made the area infamous. From mines dating to the 1870s to speakeasys and brothels from the 1920s, Butte's history comes alive in this in-depth survey of the region.

You'll accompany your guide and study leader, Dick Gibson, geologist, historian, Smithsonian Journeys Study Leader, and Butte resident, on this trip into the past in collaboration with additional expert historians, scientists, and entertainers. This is a fully escorted, single-hotel educational experience.
Mining, ranching, Victorian architecture and historic preservation, 76-million-year-old mineral-rich granite, Lewis and Clark, ghost towns, labor strife,
multi-ethnic cultures, and a 50-million-year-old volcano
— all are part of this fascinating area.
Come learn about the REAL WEST!
---
"It's a nationally significant, internationally significant area in my opinion."

—Lysa Wegman-French, National Park Service historian, quoted in Montana Standard
---
DETAILED ITINERARY: Contact us for open dates or private, customized guided tours

HIGHLIGHTS

Guided tours of World Museum of Mining, Copper King Mansion, Myra Brothel, Rookwood Speakeasy, Mai Wah Museum, and more
Four exclusive lectures on Butte's mining and cultural history and regional geology
Introduction to Butte Archives research
Orphan Girl Underground Mine Tour
Meet Butte's ghosts, whose living history brings the town's notorious past alive
Ghost towns and Lewis and Clark history

Day 1, Thursday:
Arrive and check-in at historic Finlen Hotel, Butte, MT. Gather for a welcome reception and introductory lecture on Butte History and Geology by your study leader. Dinner at the Hotel. (D)

Day 2, Friday:


After breakfast, visit Butte mining locales including Berkeley Pit, Granite Mountain Memorial (commemorating the worst hard-rock mining disaster in US history), Alice Pit, Anselmo Mine, and Mineral Museum. Tour the World Museum of Mining. A typical miner's lunch (pasties—meat pies invented in Cornwall, England) will be provided. Travel to Anaconda to see the Smelter Stack (the tallest stack in the world), Old Works, and Opportunity Ponds environmental restoration.
An afternoon lecture on minerals and their uses, and the importance of and our dependence on mining, will be given by your study leader. Dinner at The Acoma. After-dinner guided walk along historic BA&P railroad trail. (B, L, D)

About your guide and study leader:

Dick Gibson was educated as a geologist, and has more than 38 years working as a professional geoscientist and teacher, including 18 summers teaching geological sciences in the Northern Rockies. He is the former Education Director at the World Museum of Mining in Butte, and serves as a study leader on Smithsonian Journeys in Iceland, Alaska, and the Rocky Mountains, including Western U.S. National Parks.

Dick is a guide with Old Butte Historical Adventures and is a guide on the Butte Chamber of Commerce trolley tour. He was the tours and guidebook chair for the 2009 Vernacular Architecture Forum in Butte, for which he wrote most of the Butte section and two essays. His new book, Lost Butte, is due in summer 2012 from the History Press. He blogs about Butte History at http://buttehistory.blogspot.com.

Comments about Dick Gibson:
"When we signed on for this tour we had no idea it would be so interesting. But thanks to your super knowledge and delivery, you have made the trip both exciting and educational and never boring."

"Your calm professional manner put all at ease - we never felt hesitant to ask a simplistic question! Your enthusiasm and humor and incredible knowledge will bring us back."

- from Smithsonian Journeys,
Northern Rockies National Parks tour

Day 3, Saturday:
After breakfast, travel to Virginia City and Nevada City to learn about placer mining, Lewis & Clark, and ghost towns, with fascinating geology en route. Lunch on your own in Virginia City. Travel to Bannack Ghost Town State Park, Montana's first Territorial Capital. Visit Clark's Lookout (Dillon) and Beaverhead Rock en route. Return to Butte. Dinner at Hotel. Evening walking tour of historic uptown buildings, Rookwood Speakeasy, and Myra Brothel. Meet some of Butte's "ghosts." (B, D)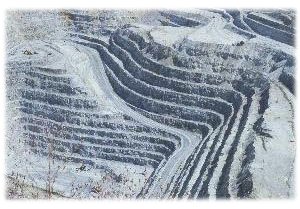 Day 4, Sunday:
Breakfast. Travel to Golden Sunlight Gold Mine, Jefferson Canyon, Three Forks, and Missouri Headwaters. Travel to Helena. Lunch on your own in Helena; visit State Capitol and Montana Historical Society museum (Charles M. Russell western art collection). Dinner at Hotel (Butte). Evening lecture on geology of Yellowstone and Glacier National Parks by your study leader. (B, D)

Day 5, Monday:
Breakfast will be followed by a lecture on Butte's ethnic groups and labor history; copy of Gibson's "Ethnic Butte" map provided. Tour Mai Wah Museum, Serbian Orthodox Church, St. Lawrence Church, Art Chateau, Copper King Mansion, Miner's Union Hall, and Butte Archives. Lunch on your own in Butte. Afternoon at leisure; additional options will be available from us. Farewell dinner at Uptown Café (including living history theater production). (B, D)

Day 6, Tuesday: Depart for home — or stay a little longer: Yellowstone National Park is 155 miles from Butte and Glacier National Park is 250 miles north. And there are plenty of other things to do in Southwest Montana! (Links) (B)

Optional Day 6, Tuesday: Add a day with us! We will work with you to provide a day of private escorted tours in southwest Montana tailored to your interests. Additional cost per person - contact us for details. Reservations must be made at time of booking full tour. With this option, leave for home on Wednesday.
For more information, contact Dick Gibson
301 N. Crystal, Butte, MT 59701
(406) 723-9639 •