---
Exploration Atlas of Turkmenistan
This report was created as a guide to the geology of Turkmenistan, designed to assist companies considering the competitive bidding that was invited a few years ago. To date, 16 companies have acquired this product. The report consists of 37 black-and-white pages
(to facilitate internal copying), plus 23 pages of tabular data in appendices. These tables were output from spreadsheets, which are included on disk as part of the report. The work was a joint project of Gibson Consulting and TerraSense. You may also be interested in our Custom Bibliography covering English papers on the Amu Dar'ya Basin.

The 1990 edition was revised and reissued with additions in February 1991. The report includes the following:
REGIONAL MAPS (1:3,000,000)
Geographic base map
Topographic map
Surface geology
Production & pipeline maps
Residual magnetic map
Reduced-to-the-pole magnetic map
1st derivative magnetic map
Interpreted major features
Bidding & Lease Areas overlays

OTHER INFORMATION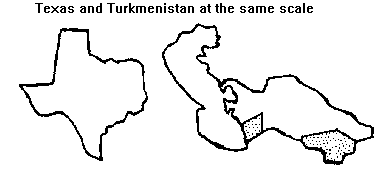 Local Maps — Amu Dar'ya & West Turkmen
Plate Tectonics
Stratigraphic columns
Regional cross-sections
References
Petroleum Geology
Digitized magnetic data on disk
Tables of production & engineering data
Production & engineering data on disk

---
---
Price
The Exploration Atlas of Turkmenistan is included as part of the complete Basement Tectonic Interpretation package. Purchased separately, the cost is US$3,000. Companies that have previously purchased the Atlas will receive a $3,000 credit toward the purchase of the complete package.
To date, companies that have purchased this Atlas are: Unocal, JNOC, Marathon, BHP, Conoco, Petro-Canada, Shell, Agip, Arco, Amoco, BP, Trend, Occidental, Globex, Statoil, and Elf Aquitaine.
Back to Former Soviet Union Index
Back to Custom Bibliography page
Back to Former Soviet Union Package Description